You are not alone: Dysmenorrhea, commonly referred to as menstrual cramps, is a condition that affects numerous women worldwide. Characterized by throbbing or cramping pains in the lower abdomen, this condition often presents itself around the time of menstruation. While it's a widespread concern, understanding its causes, types, and remedies is essential for effective management and improved quality of life.
Types of Dysmenorrhea
There are two types of dysmenorrhea: primary and secondary.
Primary Dysmenorrhea: This is the most common type, with pain typically starting 1-2 days before menstruation and lasting from 2 to 4 days. It's usually not linked to any other medical conditions and tends to decrease with age or after childbirth.
Secondary Dysmenorrhea: This type of pain usually begins earlier in the menstrual cycle and lasts longer than primary dysmenorrhea. It's generally caused by reproductive health problems, such as endometriosis or fibroids.
Is it Normal to Have Dysmenorrhea?
While it's normal for many individuals to experience some degree of menstrual cramping, the severity and duration can vary widely. For some, it might be a mild discomfort, while for others, it can be intensely painful and debilitating.
If the pain becomes severe, if you notice sudden changes in your symptoms, or if menstrual pain doesn't improve with over-the-counter treatments, it's essential to consult with a healthcare professional. They can help determine if there's an underlying condition causing the pain and recommend appropriate treatments or interventions.
Symptoms of Dysmenorrhea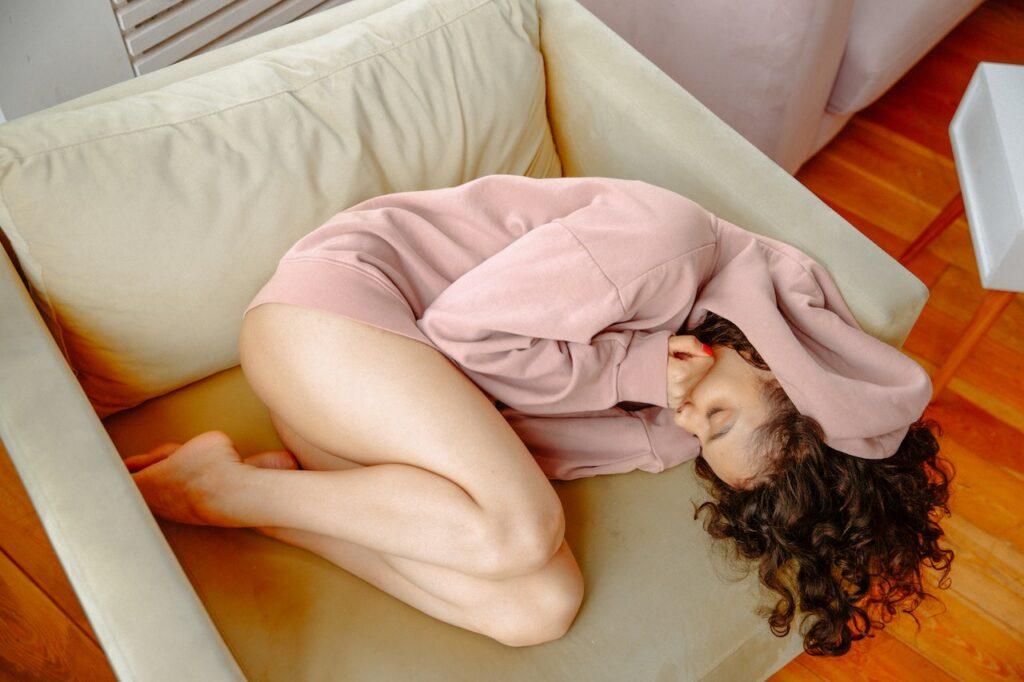 Dysmenorrhea manifests with several symptoms. The most common symptoms of dysmenorrhea include:
Throbbing or Cramping Pain: This pain, usually felt in the lower abdomen or pelvis, can vary from dull and annoying to severe and debilitating. It typically begins 1-2 days before menstruation and may last from 2 to 4 days.
Pain in the Lower Back and Thighs: Some people also experience pain that radiates to the lower back and thighs.
Nausea and Vomiting: In some cases, the pain can be accompanied by feelings of nausea, and some individuals may vomit.
Loose Stools or Diarrhea: Menstrual cramps can sometimes be accompanied by changes in bowel habits, including diarrhea.
Headache: Some individuals may experience headaches alongside their menstrual cramps.
Dizziness or Lightheadedness: In more severe cases, the pain and other symptoms can lead to feelings of dizziness or lightheadedness.
Fatigue: Tiredness or fatigue can also accompany menstrual cramps.
Causes of Dysmenorrhea
Prostaglandins, hormone-like substances associated with pain and inflammation, trigger the uterus to contract. Higher levels of prostaglandins are associated with more severe menstrual cramps. Secondary dysmenorrhea may be linked to conditions that affect the uterus and its surrounding structures.
Living with Dysmenorrhea: Effective Remedies
Heat Therapy: Applying heat to the lower abdomen can ease pain.
Over-the-Counter Pain Relievers: Non-prescription NSAIDs can help reduce menstrual pain.
Exercise: Regular physical activity can alleviate menstrual pain and improve overall health.
Alternative Therapies: Acupuncture and dietary supplements (like vitamin E, omega-3, and magnesium) have shown promise in managing dysmenorrhea for some women.
When to See a Doctor
While menstrual cramps are usually not a cause for concern, it's essential to consult with a healthcare professional if you notice sudden changes in your symptoms, if the pain is intolerable, or if it doesn't improve with over-the-counter treatments.
Dysmenorrhea, while common, doesn't have to dictate your life. With an understanding of its types, causes, and potential remedies, women can navigate their menstrual cycles more comfortably. Always consult with a healthcare provider to ensure proper diagnosis and treatment.